Email me at: nhurley1010@hotmail.com
Joseph and Gertrude Niehaus:
The Family Journey
The immigrant ancestors of our Niehaus family were Heinrich Josef Niehues and Gertrude Wilmsen, who were married on October 10, 1873, in St. Pankratius Catholic Church in Emsdetten, Germany. The couple is said to have lived in a house in Emsdetten that was built by Gertrude's parents in 1847.
Joseph's occupation was rug weaving, both in Germany and the U.S. After marrying Gertrude he carried on his business in Emsdetten, about 15 miles from Riesenbeck, the Niehaus family home. The town of Riesenbeck has long been known as a center for the weaving industry. Jute is the principal fabric made. The Niehaus tradition of rug weaving came from this background. Joseph was a door-to-door merchant and also owned his own general store at the time he left Germany.
Joseph's parents, Josef Niehues and Maria Anna Beerman, were of the small landowner class from Riesenbeck, Westphalia, Germany, a small village in the Northwest part of Germany. We know only at this point that Anna's father, Gerhard Heinrich Beermann, was a hayfarmer in Bergeshoude at the time of his daughter's marriage.
Joseph and Maria Anna had three sons, Heinrich Joseph (born 1848), Heinrich August (born 1850) and Bernard Joseph (born 1854). Heinrich Joseph, our direct ancestor, went by his second name. Bernard and Heinrich Joseph both immigrated to America. Bernard, a carpenter, was the first to leave his home and come to Indianapolis. He married after coming to the United States but did not have any children. Heinrich August stayed in Riesenbeck, where his descendants live today.
In 1885 Joseph and Gertrude Niehues left Germany for America. They brought eight children, Gerhardt, Anna, Rosa, Mary Anna, Josephina, Bernard, Helena and Joseph. They added four more children to the family after arriving in this country, Clara, John, Francis and Wilhelmina. At some point after their immigration the spelling of the name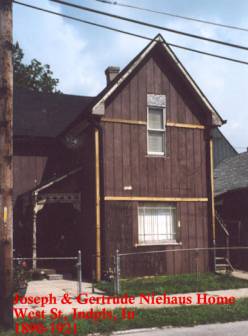 was changed to Niehaus.
They settled on the south side of Indianapolis and by 1890 were able to build the family home at 1135 South West Street that stands today. Accounts are that Joseph made a living in Indianapolis selling his rugs. They lived in the family home on West Street until their deaths, Gertrude in 1895 and Joseph in 1921.
Stories are told by the grandchildren of Joseph and Gertrude about their grandfather allowing them to work the loom that was located in a backroom of the house on West Street. Joseph's son John learned to weave from his father and carried on the tradition at the loom in his basement of his southside home until his death in 1955.
The extended family is quite large and there are numerous descendants in the Indianapolis area and beyond. The family celebrates their heritage with a family reunion each August.
By Nancy Niehaus Hurley
Updated August 31,2005