Page 2 - The Weber Stories
Harry's Family
In 1887 Adam and Amelia Weber's son Harry established a wholesale dry goods business with partner Louis Zimmer at 178 Virginia Avenue, near the thriving Indianapolis wholesale district and the center of activity of Union Station, a crossroads of numerous railroad lines. They operated Weber & Zimmer Dry Goods until 1913.
Harry and Mary Anna Keen (pictured left), the daughter of a Southside Indianapolis shoemaker from Bavaria, Germany, married in St. Mary's Catholic Church in 1886 and raised 12 children in their home on South Alabama in Indianapolis. The home was the gathering place of children and grandchildren into the mid 1940s. The family recalls the German ethnic custom of always waiting to decorate the Christmas tree on the 24th of December. Members of the family lived in the home on South Alabama for several years after Harry's death in 1938, his wife preceding him in death in 1928.
Harry Adam Weber appears second from the left in the 1937 photo below, with some of his siblings and descendants. At this time Harry Adam had retired from his dry goods business and had also been employed for a few years in the city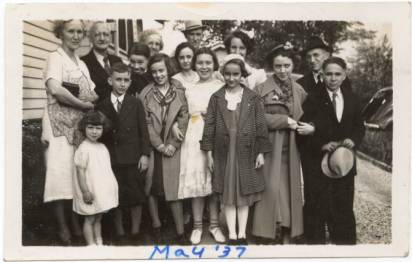 engineer's office.
Harry and Mary Anna's son, Harry Lawrence is the man on the far right, second row.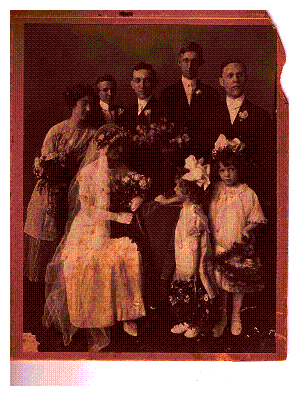 On the left is the 1913 wedding photo of Harry Lawrence Weber and Otillia Catherine Kuhn. They were married on June 4 in Sacred Heart Catholic Church on South Union Street, where Tillie's parents Charles and Mary were married in 1879.
Tillie's sister, Clara, is her maid of honor and her young cousins are the lovely flower girls in the foreground.
Harry stands just behind Tillie and his brother, Walter, is the young man in the background to his right. His attendants are cousins as well.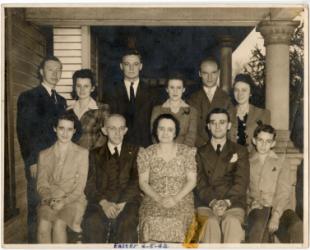 Harry and Tillie had six children and the family resided for over 40 years in the southside Indianapolis home on Singleton Street, near Garfield Park. In the 1942 photo at left the family (including three sons-in-law in the back row) gathered on the front porch while celebrating Easter. Harry worked his way from a 19-year-old messenger boy to loan officer in the Fletcher Trust National Bank. He retired after 40 years, shortly before he died in 1946
These Weber families were similar to the many descendants of German Americans populating the southern part of Indianapolis.