Garfield Park is Indianapolis' oldest park. In 1873 the city of Indianapolis purchased the land that is located at 2450 South Shelby Street, between Raymond and Southern Avenue. For the first few years the property was used as a horse racing track and called Southern Park. It is 122.59 acres of beautiful trees, flowers, picnic areas, and several community gathering spots. Our featured photo on each page of the website is of the spring in Garfield Park Sunken Gardens.

In 1881, the park was named in honor of Hoosier native and U. S. President, James A Garfield. The late 1800's and early 1900's saw many changes and improvements in the park facilities. In 1895, the park began serving the horticultural and floral culture needs of Indianapolis. The Pagoda, a south side icon, was opened in 1903.
My family roots are in the south side of Indianapolis. From the immigrants in 1857 who settled just south of the center of downtown, as did thousands of their fellow German-born citizens, to many of the current descendants, the roots are deep.
The Weber family lived just a block from Garfield Park from the early 1900s through early 1960s. To the right is a photo of my mother, Rosemary Weber, in the Sunken Gardens at Garfield Park in 1938. There were many family picnics in this park as a child.
In 1915 the new greenhouses and Conservatory were built. The photos above and to the right are of the conservatory, which displays many species of plants, a very interesting place any time of the year, but especially in the spring.
The first dedication of the Sunken Garden took place October 29, 1916.
In the late 90s the city committed funds to restoring these unique gardens. The Sunken Gardens rededication on October 29, 1998, realized the goal of bringing the gardens back to the glory of the 1920's.
The Garden is currently planted with three distinctive floral displays from early spring till late fall, and includes beautiful fountain displays daily with elaborate light and water displays for special evening events.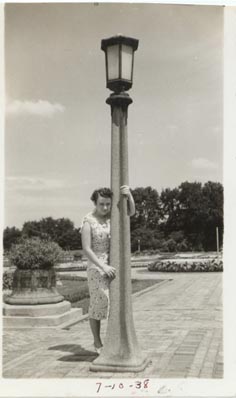 It's a great place to spend some time!